Mapping Toolbox - Timber Cruise Calculators and Field Data Collection Software
This page provides free tools for conducting forest inventories or collecting other field data.
Gathering forest inventory data is an essential part of forestry GIS. Foresters learn cruising methods in college, but the principles are fairly easy to grasp if you are a landowner wanting to understand the process or do your own inventory (see About Forestry for more).
Forest Inventory Software

Kruzer 2003 - removed at request of owner
---
Forest Inventory Software

National Cruise Program (NatCRS - US Forest Service) is the definitive forest inventory program used on all the US National Forests. It calculates timber volumes for forest reconnaissance and timber sales using sophisticated volume estimator functions. The program offers approximately 190 reports including:
Raw Data and Individual Tree Information

Low Level Volume Summaries

Volume/Value Reports by Population

Volume/Value Reports by Strata and Sale

Statistics for Sample Populations

Sampling Errors for Strata and Sale

Score Statistics

Log Level Reports

Region Specific Reports

Stand Table Reports

Unit Level Reports

Variable Log Length (Export Grade) Reports
NatCRS is somewhat complicated to learn (recommended only for trained foresters familiar with technical forest measurement terminology) and to use since it is still DOS-based. The Forest Service does, however, provide extensive documentation. The Pacific Northwest Region 6 has additional "user friendly" setup programs and instructions that explain using NatCRS under Windows.

Also check out the National Cruise Data Entry Program (NatCDE). It provides field personnel with an easy method of collecting cruise data with digital field recorders. The original DOS-based software runs on dedicated handheld recorders, but a new Pocket PC FSCruiser program is now under development. The beta version of FSCruiser is available here by ftp.
Data collected for NatCRS can also be used in the Landscape Management Simulator, a 3D forest visualization program for Windows available from Yale University and the University of Washington.
---
Dick Hall's Wisconsin TIMBER INVENTORY, GROWTH, AND ECONOMIC REVIEW (TIGER) is a commercial timber cruise option that landowners in Wisconsin might want to look into. Hall offers a classroom introduction to the program and a lucid operation manual.
---
With the advent of rugged field data recorders, tablet PCs and PDA devices, foresters can collect digital forest inventory data. With tree information recorded in a digital format from the start, cruisers can simply copy field data into the program that completes the calculations. Office time, transcription errors and drudgery are significantly reduced.

For a versatile ― though moderately expensive ― approach, the HP1100 tablet PC with a Delorme Earthmate GPS provide high resolution maps and data collection in a full Windows XP operating environment. The tablet here is in a rugged field case, and the Earthmate GPS is attached to a camera monopod with rubber bands. The monopod is usually placed in a vest back pocket to elevate the GPS receiver over the cruiser's head for best reception (or you can attach the Bluetooth GPS to your hat).

Field data for Kruzer or other inventory programs can be collected with a PDA. The setup shown above includes a Pocket PC PDA in a rugged "Otterbox", which allows GPS and power connections by cable through a port in the case. Click the image above for details.

Considering the low cost of some PDAs (like the Palm units below), it is also feasible to simply use them "as is" or inside a Ziplock® bag to keep water out. The other extreme is to use a specialized field recorder like an Allegro® CX.

Following are a few applications for collecting field data.
---
Kruzer for Pilot-DB (Palm PDAs)

In terms of inexpensive equipment, PalmOne® devices (like the Zire 21, available for less than $100) are very cost effective field data collectors for simple flat-file programs like Kruzer2003. Pilot-DB for Palm is a freeware database application that can handle the task with ease. To make creation of Pilot-DB database forms simple, a complementary program called DB Editor (also free) can be downloaded for use on your desktop Windows PC. In DB Editor, you can set up the order of data fields and make drop-down pick lists for quicker data entry in the field.
If you'd like to try the procedure, you can download a small 1 KB Kruzer template file which can be run either on a Palm PDA with Pilot-DB or on your desktop with DB Editor. Palm screen shots would look like these:
Palm Zire 21 ― said to run for 10+ hours on a battery charge. Data fields can be set up as integer, string, Boolean, notes, date and other options. The resulting records can be exported to Excel with DB Editor for use in Kruzer 2003.

Pick lists for Pilot-DB can be set up easily with DB Editor on your desktop PC. The duplicate icon (circled in red) also speeds data entry for identical trees by copying all fields to a new record.

---

This image shows the relative size of a Palm Tungsten E screen compared to the Zire model above. The 320x320 Tungsten display has four times the area of a Zire 21 or 31. The base Tungsten E is about twice the price of a Zire 21, but its touch screen's bigger text and icons would be easier to hit. The Tungsten's color screen also has a backlight, improving visibility in low light.
With DB Editor, the data fields can be changed as needed. You might, for instance, want to add a Waypoint Field to record corresponding waypoints set on a separate GPS receiver. Lat/lon data could then be joined with the tree tally. The species list could be adjusted to delete types or add trees common on the forest tract to be examined. You'll also need DB Editor to convert your Palm data to Excel files for use in Kruzer2003 volume calculations.
Another Palm database program specifically for natural resources is CyberTracker. It includes Lat/Lon coordinate recording for GPS-enabled devices. See the CyberTracker instruction manual for steps to set up a database.
---
PocketKruzer for XS Forms (Pocket PC PDAs)

Want to collect data on a Pocket PC device rather than a Palm? Then check out XS Forms and the companion XS Designer. The two freeware programs from GrandaSoft operate much the same as the Pilot-DB/DB Editor programs described above. The XS Designer program for the PC has an attractive graphical interface, making layout of data forms a snap:

If you'd like to try PocketKruzer and XS Forms on your Pocket PC PDA, download them here. After entering records, use the XS Forms Export Wizard to save the data as a CSV text file. Then in Excel, copy and paste the relevant fields into Kruzer 2003 to complete the inventory calculations.
You can use XS Designer and XS Forms to collect any type of data. XS Forms can also query data and incorporate a barcode scanner. The programs are free to download at GrandaSoft.
---
The US Forest Service offers a free Windows CE/Pocket PC tally program ― FS Tally Meter ― that can be set up to collect data for Kruzer2003 (above). Kruzer's design is especially well adapted to digital field data collection, allowing direct copy/paste from the FS Tally Meter output into Kruzer.
If you'd like to experiment with the FS Tally Meter and Kruzer2003 on your desktop PC, instructions and a Tally Meter template for Kruzer are available here.

FS Tally Meter comes in both PC and WinCE/PPC versions, available for download from the Forest Service, so you can design cruise templates on your desktop before going to the field. FS Tally Meter is a handy data collection program whether you are counting trees or anything else. Just design a table for your purpose.
The USFS Timber Cruising site features timber volume formulas that can be applied to data collected by FS Tally Meter to compute tree volumes in many formats. (See Appendix 3 of the Tally Meter User Guide for instructions.)
The Forest Service has also released its first production version of FScruiser, a sophisticated forest inventory data collection program for handheld computers.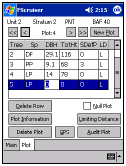 FScruiser supports the cruise methods outlined in the Timber Cruising Handbook (FSH 2409.12), including fixed plot, point sampling, point count/measure tree, sample tree, and (soon to be available) 3P.
FScruiser allows complete customization including which data entry fields are visible and their display order, drop-down list contents (species codes for example), data validation ranges, etc. Customizations can be saved and distributed as cruise "setup" files.
Download the application, instructions and examples from the US Forest Service.
---

CyberTracker freeware creates data entry templates and screen sequences to run on Windows Mobile PocketPC or PalmOS handheld computers. The program is optimized for collecting GPS coordinates simultaneously with other field data if you have a connected GPS receiver. CyberTracker's award-winning design allows displaying icons, text or both, making data collection faster and intuitive even for non-technically oriented users.
In addition to the design module, the desktop PC version of the program includes data query tools and the ability to map data points over georeferenced images or shapefiles. It can also export data in many common formats including:
Excel Spreadsheet

(ideal for use with Kruzer for forest inventories)

ESRI Shape File

Comma Separated Values

Plain Text

Web page (HTML)

eXtended Markup Language (XML)

Map as an unreferenced BMP, JPEG or WMF image

.
The CyberTracker download (about 10 MB) includes simple and helpful documentation to get you started.
---
Return to ForestPal Mapping Toolbox